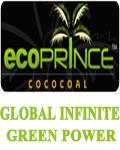 GLOBAL INFINITE GREEN POWER
Contact Person
Mr. Ravindra R. Adage
Address1
Shop No.11,12 Castel Apartment, Railway Lines, Solapur
Address2
A-199, M.I.D.C., Chincholi, Pune Road, Solapur(M.S.)
Email
info@cococoal.in
City
Solapur Maharashtra, India
Contact No 1
9422067101
Website :
www.cococoal.in
Summary
GIGP is Indias pioneering manufacturer and exporter of eco-friendly Coconut Shell Charcoal Briquettes. Marketed under the brand name Eco Prince, our Coconut Shell Charcoal Briquettes are safe and hygienic. Made from 100% natural waste coconut shells, Eco Prince is gaining popularity in BBQ houses and restaurant kitchens as fuel for grilling.