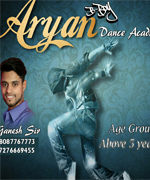 Aryan Dance Academy
Contact Person
Ganesh Konda
Address1
Karnik Nagar, In front of Satyam Hotel, near Old Walchand College Solapur
City
Solapur, Maharashtra, India
Contact No 1
7276669455
Contact No 2
8087767773
Summary
All types of dance on songs are teached here. Modern & New Songs dance teach. Admission Opend.. Limited Seats.