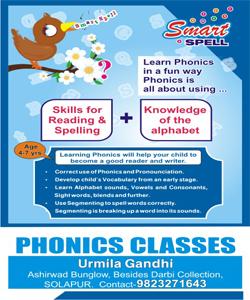 Smart Spell Phonics Classes
Contact Person
Mrs. Urmila Gandhi
Address1
158/B Railway Lines,
Email
urmilaamit@gmail.com
City
Solapur Maharashtra, India
Contact No 1
9823271643
Summary
Phonics Classes And Grammer Classes. 1) Child Friendly "Smart Spell" taps into childerns imagination making learning fun and early to remember. 2) Co-related to common core standards directly with the educational standards adopted by UK and India. 3) We are Systematic synthetic Phonics : This refers to the blending of sounds to make a word and also provides Comprehensive support for explaining the change in the sounds associated with different spellings. 4) Backed by research : Teaching Phonics with characters and actions as supported by solid research findings all our strategies are aligned with the latest Scientific evidence and recognised best practices. 5) Organised and Planned : "Smart Spell" is Organised and systematically planned programme for young kids. This programme is not only extremely well thought out is highly imaginative and distinctly and usefully memorable.