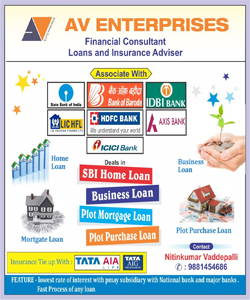 AV ENTERPRISES
Contact Person
Nitinkumar Vaddepalli
Address1
34/3/62, New Paccha Peth,Solapur-413004
Email
nitin_515@rediffmail.com
City
Solapur, Maharashtra, India
Contact No 1
988145686
Contact No 2
0217-2654686
Summary
Financial Consultant, Loans and Insurance Adviser.
Assoicated with State Bank Of India, Bank Of Baroda, IDBI Bank, LIC, HDFC Bank, Axix Bank, ICICI Bank, etc;
Deals in SBI Home Loan, Business Loan, Plot Mortgage Loan, Plot Purchase Loan etc;
Insurance Tie up with : TATA AIA LIFE, TATA AIG Insurance
Feature : lowest rate of interest with pmay subsidiary with National bank & major banks, Fast Process of any loan.
Visiting Time : 10 A.M. to 9 P.M.