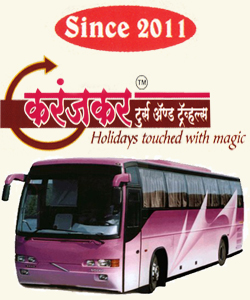 Karanjikar Tours And Travels
Contact Person
Vivek Karanjikar
Address1
89 / C-45,Shrishail Nagar, Near Sahastrajun School,Bhavani Peth,Solapur
Email
karanjikarvivek1@gmail.com
City
Solapur, Maharashtra, India
Contact No 1
8862031919
Contact No 2
7020917112
Summary
All India, Nepal, Bhutan, China Tours Organizer.
Shri Siddheshwar Lucky Draw :
*)This offer limited only 201 members.This Scheme available for 27 months.Per member per month Rs.1000/- will be pay.To winner remaining EMI not pay. This Scheme having 27 Draws.Every Time 30 Draw announced.