Bank Insurance >> Financial Institutions
YES CONSULTING


ONE PROBLEM MANY SOLUTIONS

Send SMS
Contact Person
:
Sagar Gulve
Address
:
Shop No.18, Arjunrao Barbole Complex, Near Sankeshwar Baug, Paranda, Road, Barshi - 413401
City
:
Barshi, Maharashtra, India
Contact No. 1
:
9970924099
Email
:
sagargulve2@gmail.com
website
:
Yesconsultingbarshi.in
Summary
:
Our Facilities :
1)Home Loan
2)Plot Plus Construction Loan
3)Plot Loan
4)Mortgage Loan
5)NRI Home Loan
6) General Insurance & Life Insurance
7)Vehicle Loan ,etc;
आमच्याकडे कुठल्याही कामाची कन्सल्टिंग फी घेतली जात नाही नोंद घ्यावी.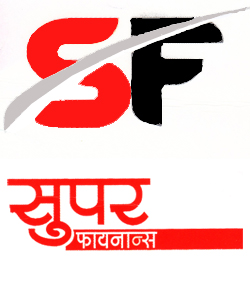 Super Finance

Send SMS
Contact Person
:
Damodar Bhandekar
Address
:
230/A, Paralekar Godavari Nagar,Gavali Vasti,Solapur
City
:
Solapur, Maharashtra, India
Contact No. 1
:
8149225947
Contact No. 2
:
8830156785
Summary
:
1)Family Loan
2)Loan available in 5 minutes
3)Loan with Minimum Documents
Ek Vel Avashya Bhet Dya (Must visit one time)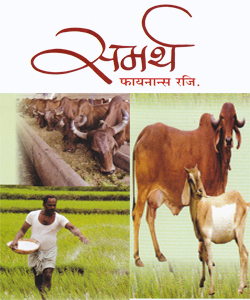 Samarth Finance Reg

Send SMS
Contact Person
:
Samarth
Address
:
97,South Kasaba,Near Unique Hospital,Laxmituka Complex,Solapur
City
:
Solapur, Maharashtra, India
Contact No. 1
:
8390210251
Email
:
pranitamajage2@gmail.com
Summary
:
1.Loan for Deshi Gopalan
2.Gorgay Palan / Sheli Palan
3.Mase Palan / Kukut Palan
4.Vit Bhatti / Oil Mill
5.Rice Mil
6.Poha mil
7.Small Scale Business
8. Sendriya Gula Nirmiti
9.Ayurvedic medicine manufacturing
10.Dairy Products / Milk Collection Center
11.Solar Power
12.All types of Oil(Massage Oil)
13.Sendriya Pashukadya Nirman Udoyg
14.Agricultural development, farmland,Pipeline,Thibak Sinchan etc;

Required Document ListFor Gopalan, Sheli / Mendhi Palan,Sendriya Sheti,Solar Power as below:
1)Passport Size Photo -2
2)Aadhar Card
3)Pan Card
4)Bank Pass Book Xerox (3 months Statment)
5)Light Bill Current Month
6)Sheti Jamin Jagecha Utara
8 A Sample
9.Project Report(C.A)
Atyanta Kami Ani Sopya KadpatranvarSulbha Karj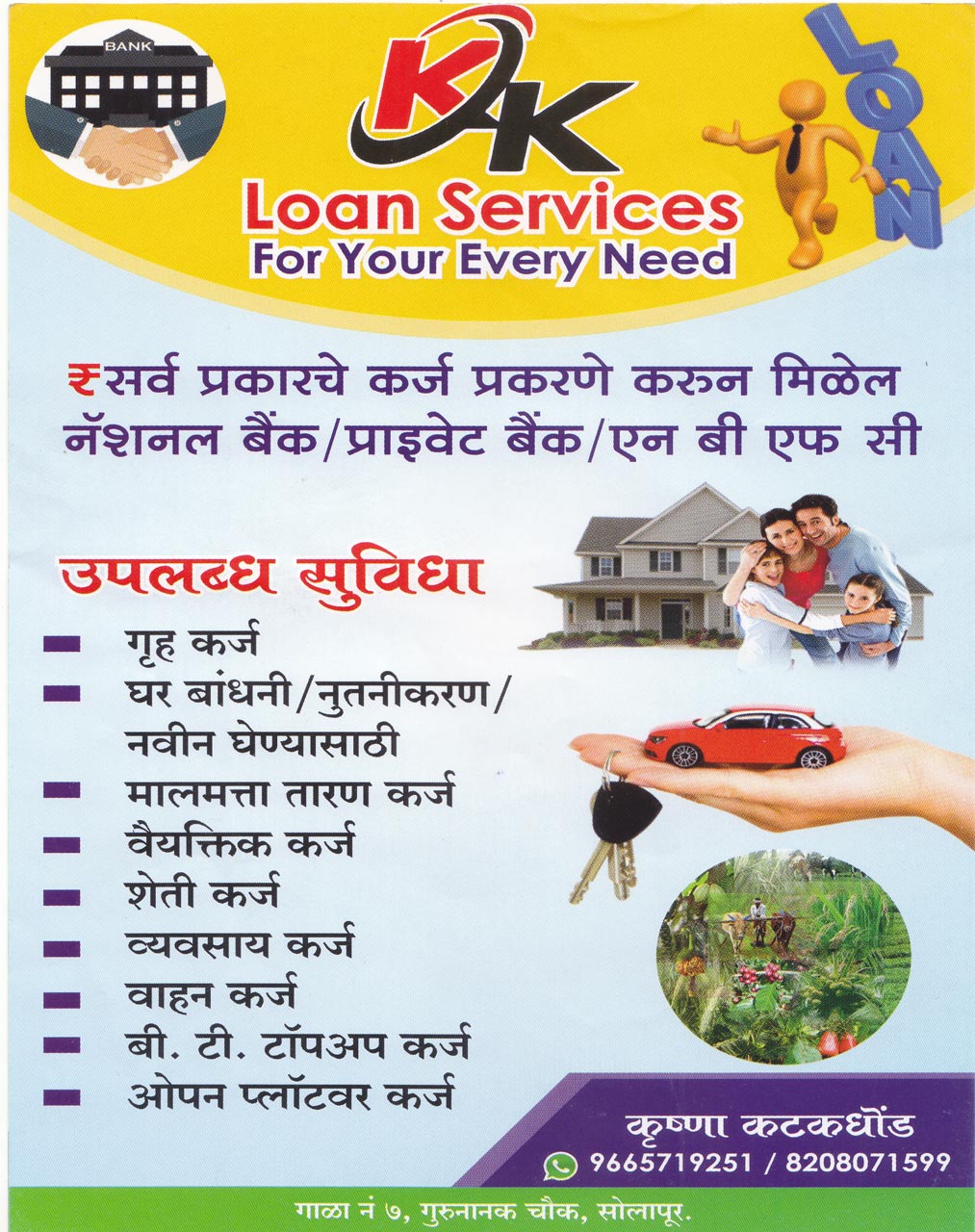 KK LOAN SERVICES
For Your Every Need Send SMS
Contact Person
:
Krushna Katkdhond
Address
:
Gala No.7, Gurunank Chowk,Solapur
City
:
Solapur, Maharashtra, India
Contact No. 1
:
9665719251
Contact No. 2
:
8208071599
Summary
:
All types of loans services available like National Bank / Private Bank/ NBFC;
Available facilities :
1)House Loan
2)House construction / renovation / new house purchase
3)Property mortgage loan
4)Personal Loan
5)Agricultural loans
6)Business Loan
7)Auto Loan
8)BT Topup Loans
9)Loan on open plot
10)New Shop Act License made here, etc;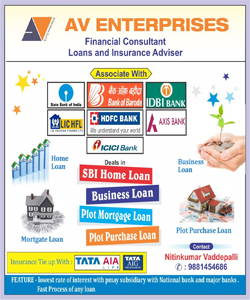 AV ENTERPRISES

Send SMS
Contact Person
:
Nitinkumar Vaddepalli
Address
:
34/3/62, New Paccha Peth,Solapur-413004
City
:
Solapur, Maharashtra, India
Contact No. 1
:
988145686
Contact No. 2
:
0217-2654686
Email
:
nitin_515@rediffmail.com
Summary
:
Financial Consultant, Loans and Insurance Adviser.
Assoicated with State Bank Of India, Bank Of Baroda, IDBI Bank, LIC, HDFC Bank, Axix Bank, ICICI Bank, etc;
Deals in SBI Home Loan, Business Loan, Plot Mortgage Loan, Plot Purchase Loan etc;
Insurance Tie up with : TATA AIA LIFE, TATA AIG Insurance
Feature : lowest rate of interest with pmay subsidiary with National bank & major banks, Fast Process of any loan.
Visiting Time : 10 A.M. to 9 P.M.
M/S. Krishang Chits

Send SMS
Contact Person
:
Vinayak Racharla
Address
:
43, A, Kuchan Nagar
City
:
SolapurMaharashtra, India
Contact No. 1
:
9422460307
Summary
:
Chit Fund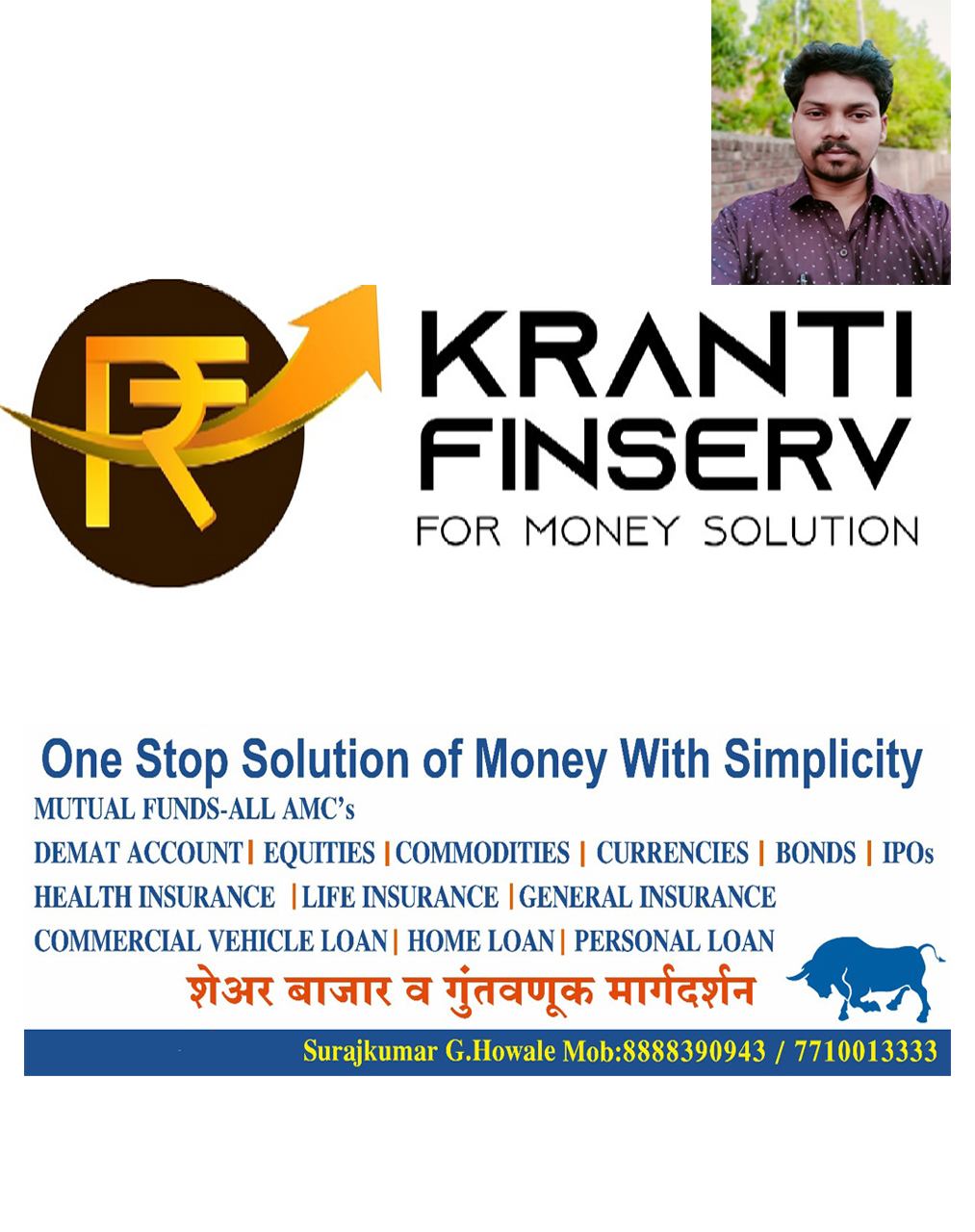 KRANTI FINSERV
FOR MONEY SOLUTION Send SMS
Contact Person
:
Surajkumar G. Howale
Address
:
Ambedkar Nagar, Sangola, Solapur - 413307
Address2
:
A/p- Muchandi, Taluka-Jath Dist-Sangli - 416404
City
:
Solapur, Maharashtra, India
Contact No. 1
:
8888390943
Contact No. 2
:
7710013333
Summary
:
One Stop Solution of Money With Simplicity
Mutual Funds All AMCs, Demat Account, Equities, Commodities, Currencies, Bonds, IPOs, Health Insurance, Life Insurance, General Insurance, Commercial Vehicle Loan, Home Loan, Personal Loan, GST & Taxation Services, All CSC Centre Services, etc;
HDFC Ltd

Send SMS
Contact Person
:
Yusuf Mujawar
Address
:
Vijapur road, Solapur
City
:
SolapurMaharashtra, India
Contact No. 1
:
0217-2316804
Email
:
yusufmujawar@ymail.com
Summary
:
for any home loan enquiry please contact
Financial Services

Send SMS
Contact Person
:
Mr.Laxman Nadimetla
Address
:
Plot No. 59B, Vyanktesh Nagar, M.I.D.C. Road, Near Mumtaj Nagar, Solapur
City
:
SolapurMaharashtra, India
Contact No. 1
:
9730076037
Email
:
lucky_p06@yahoo.com
Summary
:
Business Loan, Personal Loan, Mortgage Loan & Loan Against Property
Birla Sun Life Mutual Fund

Send SMS
Contact Person
:
Mahantesh Patil
Address
:
Shop No-S-1A, E Ward, Akshar Plaza, CTS No.264/K, Tarabai Park, Kolhapur
City
:
KolhapurMaharashtra, India
Contact No. 1
:
9960540709
Contact No. 2
:
0231-6452003
Email
:
patil.mahantesh0@gmail.com
website
:
www.birlasunlife.com
Summary
:
Birla Sun Life Asset Management Company Limited
Bhagya Marketing

Send SMS
Contact Person
:
Bhagya
Address
:
61/B,Navi Peth,Opp.Adv.Dhananjay Mane Residence,Solapur
City
:
Maharashtra, India
Contact No. 1
:
9225832666
Contact No. 2
:
9325025666
Summary
:
Financial Consultant Of Personal Loan,Consumer,Home,Vehicle Loan