>> Placement Services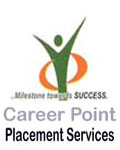 Career Point Placement Services

Send SMS
Contact Person
:
Mr. Amit Dumma
Address
:
1st Floor, Sudhakar Complex, Above Bank of India, Saat Rasta, Solapur.
City
:
Solapur, Maharashtra, India
Contact No. 1
:
9595303444
Contact No. 2
:
02176450522
Email
:
amit.dhumma@careerpointplacementservices.com
website
:
www.careerpointplacementservices.com
Summary
:
Career Point Placement Services Staffing Solutions is committed to adding exceptional value to the clients businesses through high-quality, professional services that are precise, reliable and quick. Our commitment is to deliver highest quality in service by applying a rigorous process to understand the technical, cultural and physiological needs of both clients and candidates throughout the recruitment.
Yugandhar Services & Event

Send SMS
Contact Person
:
Milinf C. Gangji
Address
:
588 , East Mangalwar Peth, OPP.Narayandham chadar Showroom ,Koutam Chowk,Solapur
City
:
Solapur, Maharashtra, India
Contact No. 1
:
8983567008
Contact No. 2
:
9921036542
Email
:
gangi_milind@rediffmail.com