Builders Developers Engineer Materials >> Roofing Sheets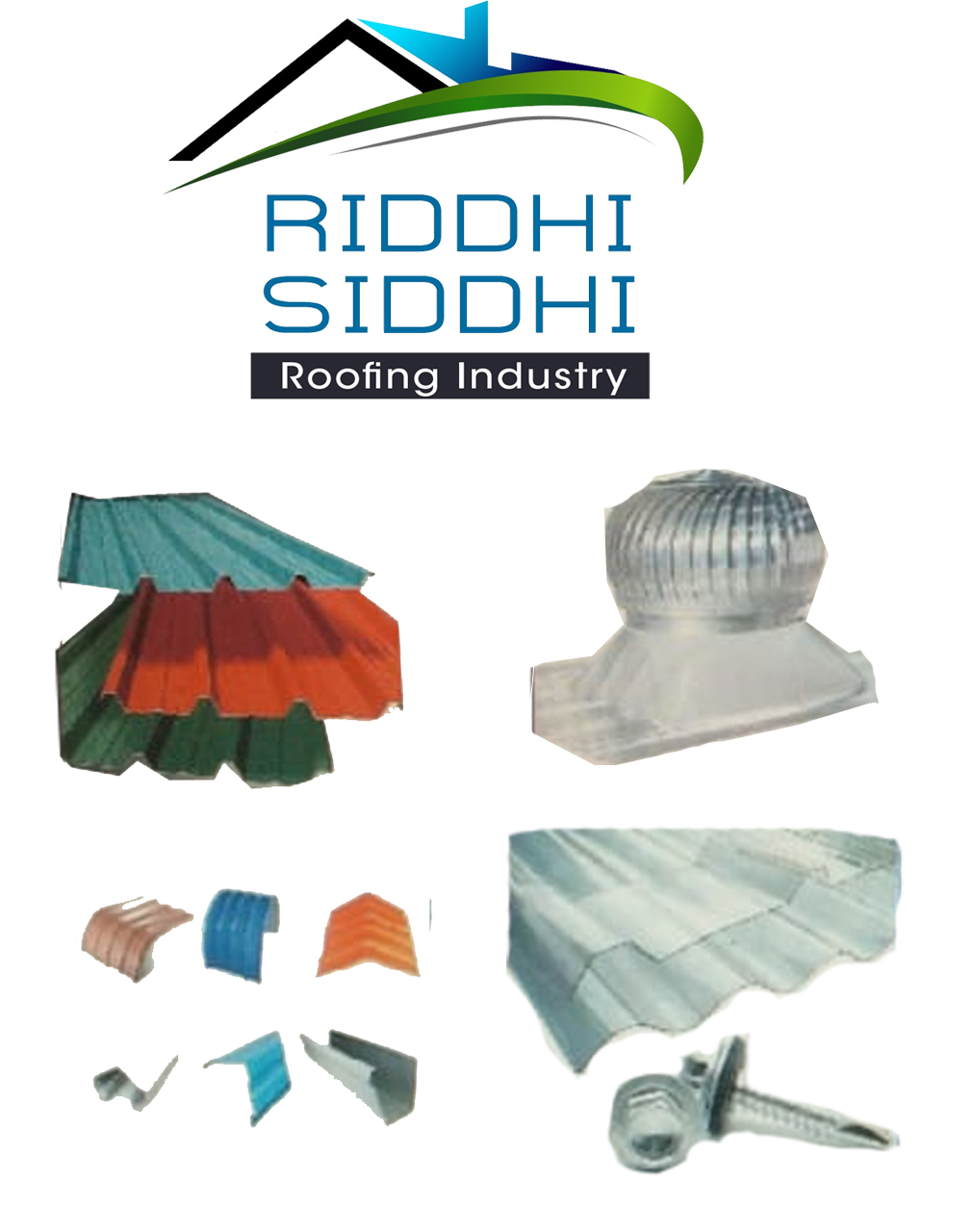 RIDDHI SIDDHI ROOFING INDUSTRY

Send SMS
Contact Person
:
Prasad Jadhav
Address
:
C 184, M.I.D.C. , Chincholi, Solapur - 413225
City
:
Solapur, Maharashtra, India
Contact No. 1
:
9021400800
Email
:
riddhisiddhiroofing@gmail.com
Summary
:
Manufacturer & Seller of Color Coated Roofing Sheets,Ventilator Turbos,Profile Sheet,Selfdrilling Sreews,Pollycarbonate Sheets.
ROOFING AND WALL PROFILE SHEETS

SIX ribbed profile roofing sheet from premier raw material producers.We also have seven ribbed profile sheets. We are providing all types of sheet.products of high rib profile sheets of 1000mm width & 1200mm width with customized length to meet the price,quality and demand in market.

In 1220mm width sheet :- Profile sheet actual width – 1072mm,Profile sheet after overlap width - 1000mm.
In 1450 sheet width sheet :- Profile sheet actual width – 1274mm,Profile sheet after overlap width – 1200mm
BENEFITS OF OUR PROFILE SHEETS :
1.High standard six ribbed profile sheets
2.Sheets require less number of purlins & reduce cost of PEB structure due to extra ribbed design.
3.Very suitable for industrial areas.
4.The sheets are easy to work because they are light-weighted and have high strength.
5.It can be designed into different shapes and varying thickness.
6.The sheets are recyclable, thus they are environment friendly and can be re-melted and processed to make different all new steel product.
Materials details:- 1. PPGI ( pre painted galvanized iron profile sheet ) - Top color coat 15 to 40 micron, of regular polyester,Back coat or bottom coat 7 to 8 micron.
2. GI ( Galvanized Iron ) - Sheet which are basically coated with zinc and include a range of hot dip galvanized and electro-galvanized steel sheets,Aluminum – 55% Zinc – 43.5%, Silicon – 1.5%.
Accessories: - CRIP CURVE,GABLE FLASHING,PROFILE RIDGE,GUTTER,DOWN TAKE PIPE,L – FLASHING,CORNER TRIM,DRIP TRIM.
TURBO VENTILETER , POLYCARBONATE SHEETS AND SELF DRILING SCREW - TURBO - AVAILABLE IN 600mm,POLYCARBONATE BASE AVAILABLE IN THICK – 2.0mm
POLYCARBONATE SHEETS - AVAILABLE IN THICK – 1.8 mm & 2.00mm,ALSO AS PER COSTUMER NEED.
SELF DRILING SCREW - AVAILABLE IN – 25mm, 55mm,AS PER COSTUMERS NEED.