Hospitals Doctors >> Gynaecologist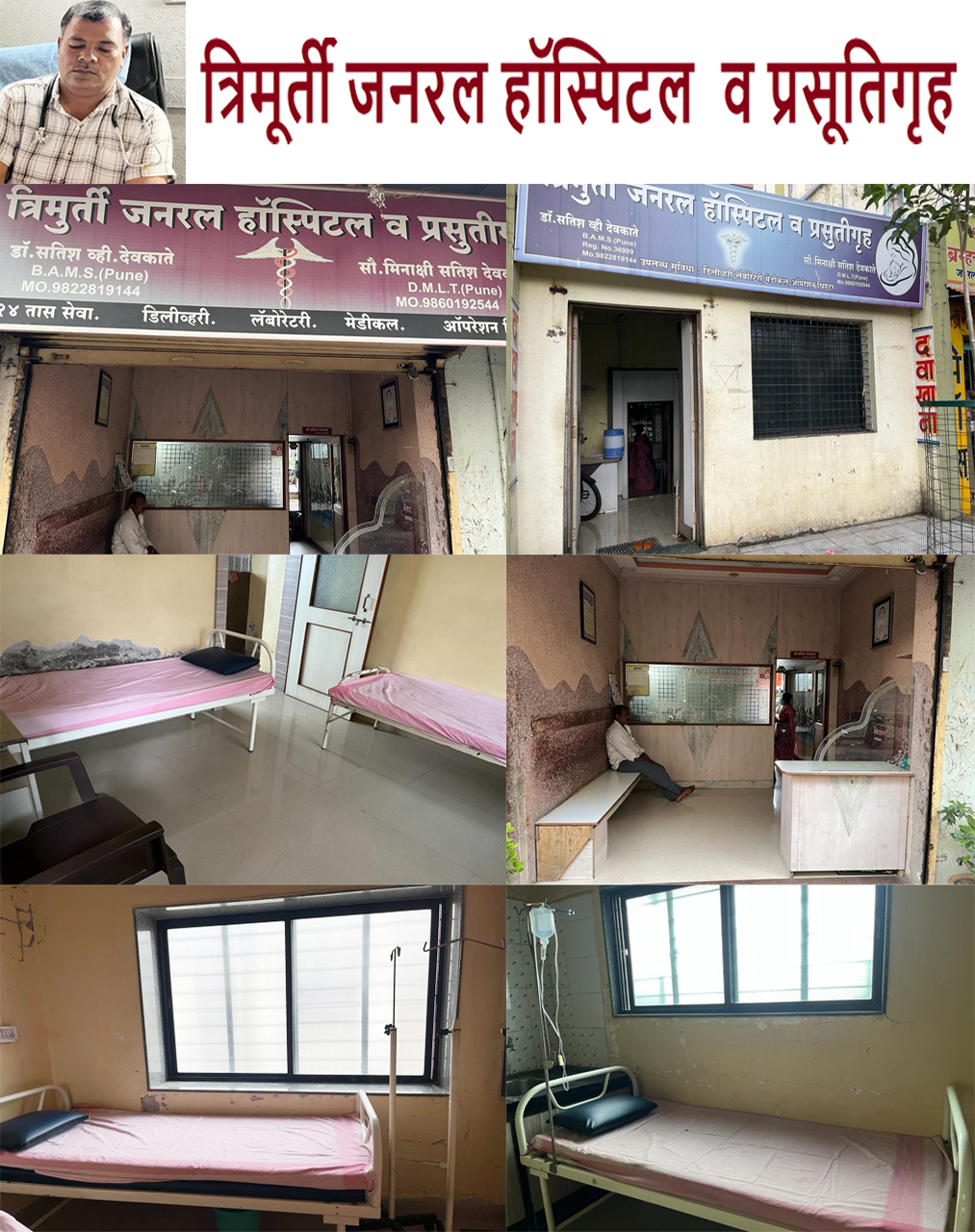 TRIMURTI GENERAL HOSPITAL AND MATERNITY HOME

Send SMS
Contact Person
:
Dr. Satish V. Devkate
B.A.M.S. (Pune)
Address
:
Gala No. 6 , Jadhav Complex, Shivaji Chowk, Gunawadi Road, Pangalli, Behind Bus Stand, Baramati. - 413102 Dist. Pune
City
:
Dist. Pune, Maharashtra, India
Contact No. 1
:
9822819144
Contact No. 2
:
9860192544
Summary
:
Our Facilities :
Doctors, Pathology Laboratory, Operation Theatre, Hot Water, Filtered Water, Emergency Service, etc;
JADHAVAR NURSING HOME & GENERAL HOSPITAL

Send SMS
Contact Person
:
Dr. Ashwini Pradeepkumar Jadhavar
M.B.B.S. (V.M.Med.Colleges, Solapur) DA (Solapur)
Address
:
first Floor,Arwind Complex,Near SBI Branch of Baliwes,Kasturba Market, Baliwes,Solapur - 413002
City
:
Solapur, Maharashtra, India
Contact No. 1
:
9423617526
Contact No. 2
:
7721970707
Email
:
ashwini.vmmc@gmail.com
Summary
:
All type of Operations, Prenatal & Postnatal care,well developed & Equipped OT, Chemist Lab, etc;
Available Facilities:
1)Before & After Delivery Care
2)Painless Delivery(Normal)
3)All type of Operations & Caesaerian Deliveries
4)Family planning Operations
5)Infertility Treatment
6)Treatment & recurrent pregnancy loss
7)Laparoscopic Surgeries
8)N.S.T Facility.
Shree Kripa Maternity Home

Send SMS
Contact Person
:
Dr.V.A.Kale
Address
:
Plot No.28, Mantri Chandak Vihar,Hotgi Road,Asara Chowk,Solapur
City
:
SolapurMaharashtra, India
Contact No. 1
:
0217-2743810
Email
:
vk2367615@gmail.com
Summary
:
Maternity,Infertility Workup.. Time:Morning:-10.00 A.M To 12.00 P.M, Evening:6.00 P.M To 8.00 P.M
Gunjotikar Nursing Home

Send SMS
Contact Person
:
Menna S.Gunjotikar
Address
:
78/81,Somwar Peth,Vijapur Ves ,Solapur
City
:
SolapurMaharashtra, India
Contact No. 1
:
9822684135
Contact No. 2
:
0217-2629600
Email
:
mgunjotikar@gmail.com
Summary
:
All Types Of Operations,Obstetrics & Gynaecological facilities,sonography,Mtp & Laparoscopy,sonography & N.S.T. Antenatal Check UP @ Advice
Dr. Vasanti Munot

Send SMS
Contact Person
:
Dr. Vasanti Munot
City
:
SolapurMaharashtra, India
Contact No. 1
:
9422459436
Contact No. 2
:
0217-2324649
Dr. Sou.Zambare Sulabha

Send SMS
Contact Person
:
Dr. Sou.Zambare Sulabha
City
:
SolapurMaharashtra, India
Contact No. 1
:
0217-2726650
Contact No. 2
:
0217-2327613
Dr. Sou.Patverdhan Shila

Send SMS
Contact Person
:
Dr. Sou.Patverdhan Shila
City
:
SolapurMaharashtra, India
Contact No. 1
:
0217-2721040
Contact No. 2
:
0217-2728822
Dr. Sou. Kiran Sarada

Send SMS
Contact Person
:
Dr. Sou. Kiran Sarada
City
:
SolapurMaharashtra, India
Contact No. 1
:
0217-2321957
Contact No. 2
:
0217-2744881
Dr. Gandhi Ajit

Send SMS
Contact Person
:
Dr. Gandhi Ajit
City
:
SolapurMaharashtra, India
Contact No. 1
:
9850831611
Contact No. 2
:
0217-2323211
Dr. Baldava Sampat

Send SMS
Contact Person
:
Dr. Baldava Sampat
City
:
SolapurMaharashtra, India
Contact No. 1
:
0217-2326853
Akshay Hospital

Send SMS
Contact Person
:
Dr.Mrs.S.D.Kulkarni
Address
:
321/52,Muslim paccha peth,Near kalika devi mandir,solapur-7
City
:
SolapurMaharashtra, India
Contact No. 1
:
2628920
Contact No. 2
:
2325900
Email
:
doc.shashi.k@gmail.com
Summary
:
antenatal postnatal check delivery tubeetomy and MITP center opentive lapnoscopy infentily innuni zation sonogaphy