>> Tea Shops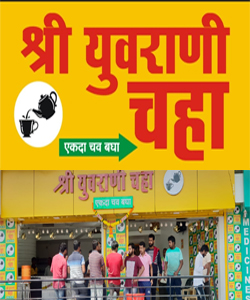 Shri Yuvarani Tea

Send SMS
Contact Person
:
Kapil Rathod
Address
:
Kuber Champers,Near IDBI Bank,Near Ingeri Mat,Nehru Nagar,Vijaypur Road,Solapur
City
:
Solapur, Maharashtra, India
Contact No. 1
:
7519005050
Contact No. 2
:
9921055050
Summary
:
We are here to accept orders for Tea Party and other events.
Contact us today for Sugandi And Malaidar Tea.
Only One Famous Tea Stall in Solapur Shri Yuvarani Tea
Darjedar & Swadisht Masala Tea available with us.
For Birthday celebration,Party ,Tea- Party visit us today.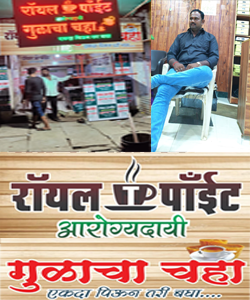 Royal Tea Point

Send SMS
Contact Person
:
Prakash Thavare
Address
:
पुणे पंढरपूर रोड (खुडुस ‌ 62 फाटा )ता माळशिरस जिल्हा सोलापूर
City
:
SolapurMaharashtra, India
Contact No. 1
:
9158190777
Contact No. 2
:
8532865777, 8552865777, 9158790777
Summary
:
गुळामध्ये आयर्न २ पोटॅशियम / कार्बोहायड्रेट असल्यामुळे शरीरातील रक्ताची कमतरता दुर. होण्यास मदत होते. गुळ हे ऑन्टीटॉक्सीन म्हणुन काम करते, तसेचशरीरातील हानिकारक टॉक्सीन बाहेर काढुन त्वच्या चमदार बनविण्यास मदत करते. गुळाच्या चहामुळे उतार वयातील समस्या दुर होण्यास मदत होते. सांधिवातावर अत्यंत गुणकारी ठरते. पचनक्रिया सुधारण्यास मदत. होते. थकवा. दुरःहोतो. गुळामध्ये शरीरातील प्रतिकारक शक्ती, वाढवणारे. घटक जास्त. प्रमाणात आढळतात. । केसांविषयी त्त्वचे विषयी समस्या दुर होण्यास उपयुक्त.

कमी भांडवलात स्वतःचा व्यवसाय सुरु करा "स्वतःचे अमृततुल्य सुरू करा तेही योग्य मार्गदर्शनाखाली.." संपूर्ण सेटअप संपूर्ण प्रशिक्षण सुरवातीला लागणारे साहित्य ग्राहक वाढविण्यासाठी सहकार्य