Beauty Parlours Saloons Spa >> Others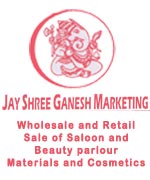 Jay Shree Ganesh Marketing

Send SMS
Contact Person
:
Krishana Bhakare & Nagesh Bhakare & Ganesh Bhakare
Address
:
Shop.No.2, Veer Rani Kittor Channamma Shopping Centre,Opp.Padma Theatre,Kanna Chow,Jodbhavi Peth,Solapur
City
:
Solapur, Maharashtra, India
Contact No. 1
:
9423592823
Contact No. 2
:
8087724283,7620761835
Email
:
ganesh.bhakare.p51@gmail.com
Summary
:
All types of Ladies and Gents Parlor materials,Machineries, Chairs, Equipments and many other materials at Wholesale rate.
Also , Cosmetics, Jewelleries,Household Products, Parlor machineries sales,Repaires and Spares /all services available here.