Hospitals Doctors >> Skin Specialist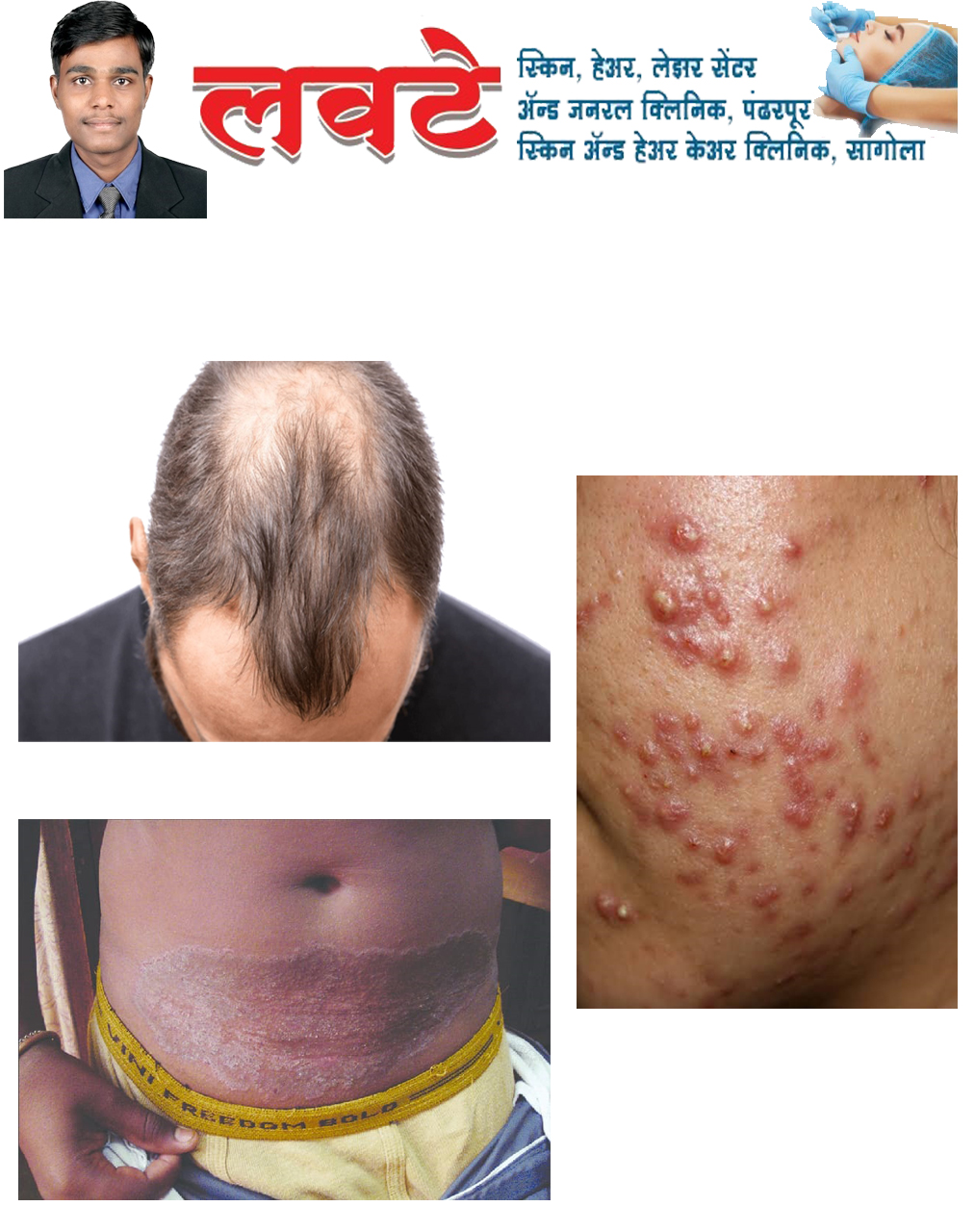 लवटे स्किन, हेअर, लेझर सेंटर ॲण्ड जनरल क्लिनिक
पंढरपूर & सांगोला Send SMS
Contact Person
:
डॉ. प्रकाश मा. लवटे MBBS, FCPS-Dermatology (Mumbai)
डॉ. भाग्यश्री सोनवर - लवटे BAMS, PGDEMS (Pune)
Address
:
गाळा नं. २२, २३, २४, महालक्ष्मी कॉम्प्लेक्स, गाताडे प्लॉट, जुना कराड नाका, पंढरपूर
Address2
:
गाळा नं. ०१, ०४, खरेदी विक्री संघ, फुले चौक, सांगोला
City
:
पंढरपूर, Maharashtra, India
Contact No. 1
:
7020581457
Contact No. 2
:
7620835385
Email
:
lawateclinic@gmail.com
Summary
:
उपलब्ध सुविधा:
त्वचारोग : - गजकर्ण/नायटा, नागिण, अंगाला खाज सुटणे, अंगावर चट्टे येणे, कोड सोरायसिस, अंगावरील पांढरे डाग, पित्त उठणे चिखल्या, इसब, तोंड येणे, नखांचे आजार.
केश विकार : - केस गळणे, केसांमधील कोंडा, टक्कल पडणे, चाय / उंद्रि लागणे, पांढरे केस, शरीरावरील नको असलेले केस काढणे.
कुष्ठरोग : - निदान व उपचार
गुप्तरोग : लघवी व जननेंद्रियांच्या समस्या (जखमा, गाठी, पु येणे), एड्स निदान, उपचार व मार्गदर्शन
पी. आर. पी. पिलींग ट्रिटमेंट, आर.एफ. / ई.सी. लेझर : - चेहऱ्यावरील मुरुम, खड्डे, गोंदन हटविणे, वांग, मस, चेहऱ्यावर उजळपणा आणणे, चामखिळ व शरीरावरील गाठी काढणे. तसेच, सर्दी, ताप, खोकला * अंगदुखी, सांधेदुखी, डोकेदुखी , साथीचे आजार, थायरॉईड, ब्लड प्रेशर, मधुमेह, मासिक पाळीच्या समस्या इ. उपचार केले जातील.


डॉ. प्रकाश मा. लवटे (वेळ)
पंढरपूर : सोम ते शुक्र, सायं. ४ ते ८
Contact :- 7020581457
सांगोला : सोम ते शुक्र सकाळी ९ ते दु. १ (शनिवार बंद) Contact :- 7620835385
दुसरा व चौथा शनिवार सकाळी ९ ते १ आणि दुपारी ४ ते ८
रविवार : सकाळी ९ ते दु. १ आणि सायं. ४ ते ७ पर्यंत
(रविवार बंद)
डॉ. भाग्यश्री सोनवर-लवटे (वेळ)
पंढरपूर: सोम ते शनी, सकाळी ९ ते १
सायं. ४ ते ८ (रविवार बंद)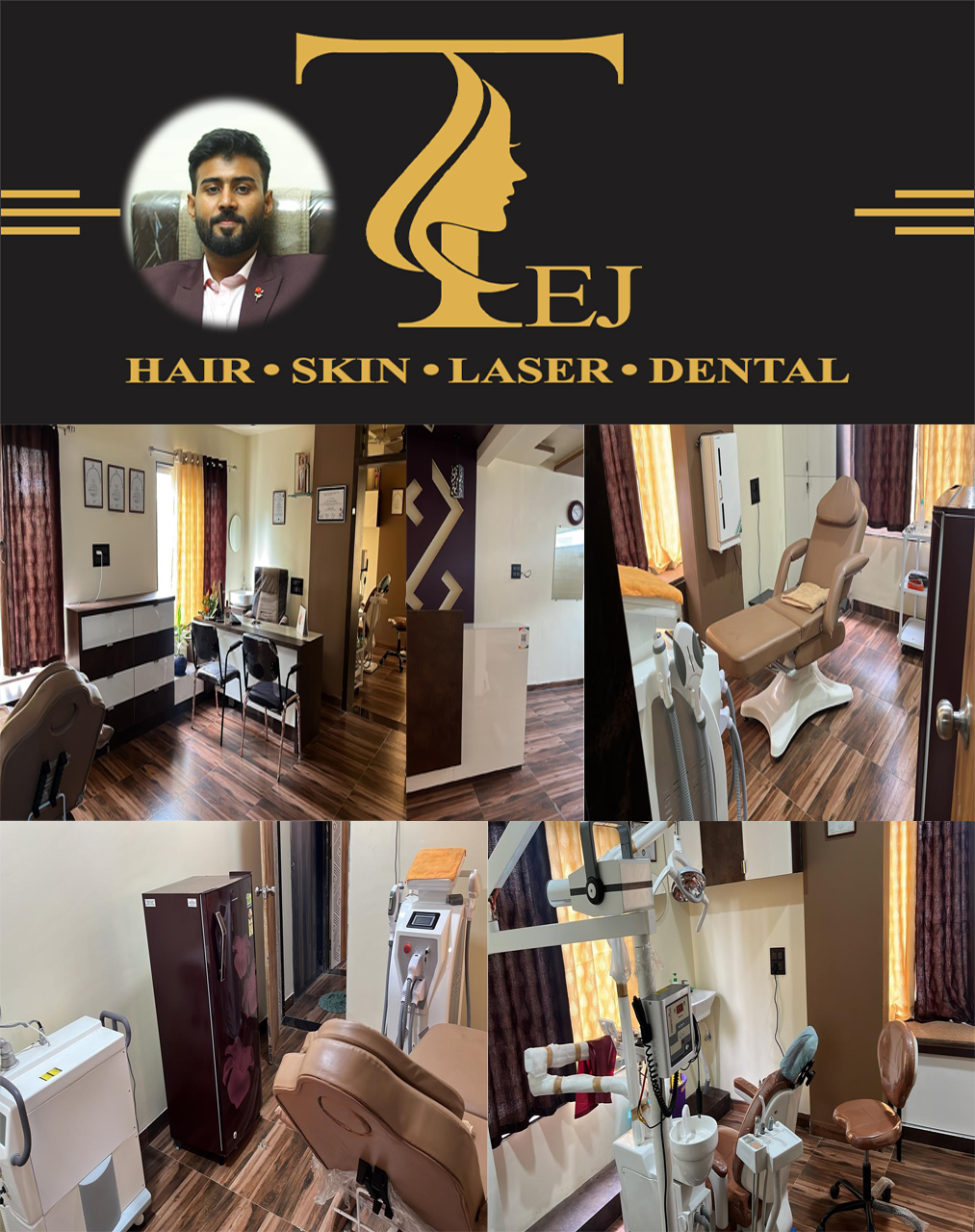 TEJ HAIR , SKIN , LASER & DENTAL

Send SMS
Contact Person
:
Dr. Tejas Jalindar Mahadik
Dental Surgeon, Cosmetologist, Trichologists, Laser Specialist
Address
:
Behind Patbndhare Bhavan, Near Vishrambagh Railway Station, Vishrambagh, Sangli - 416415
City
:
Sangli, Maharashtra, India
Contact No. 1
:
9763719008
Email
:
tejasmahadik9009@gmail.com
Summary
:
Our Facilities : Cosmetology, Skin tag removal, Hydra facial, Laser peeling, Fractional laser, Laser hair removal, Ipl treatment, Gfc treatment, PRP treatment, Skin glow treatment, Botox, Fillers, Aging treatment, All laser treatment, Skin tightening.
Hair, Hair growth, PRP treatment, Gfc treatment, Dandruff treatment, Hair fall treatment, Hi frequency, All hair treatments, Tattoo removal with laser.
All Dental Treatment Under One Roof With Latest Laser Treatment Available.
momin skin clinic

Send SMS
Contact Person
:
dr asif
Address
:
125, a asara society, hotagi raod solapur
City
:
SolapurMaharashtra, India
Contact No. 1
:
8483930617
Email
:
dr.asifim@gmail.com
Summary
:
treatment on acne, pimples, dark circles under eyes, post pimple scars,dandruff
Dr. Shah Swapnil

Send SMS
Contact Person
:
Dr. Shah Swapnil
City
:
SolapurMaharashtra, India
Contact No. 1
:
0217-2322224
Dr. Kale Girish

Send SMS
Contact Person
:
Dr. Kale Girish
City
:
SolapurMaharashtra, India
Contact No. 1
:
2729812
Dr. Honap Nagesh

Send SMS
Contact Person
:
Dr. Honap Nagesh
City
:
SolapurMaharashtra, India
Contact No. 1
:
0217-2624193
Dr. Galgali Bindugopal

Send SMS
Contact Person
:
Dr. Galgali Bindugopal
City
:
SolapurMaharashtra, India
Contact No. 1
:
0217-2627377
Dr. Dhepe Nitin

Send SMS
Contact Person
:
Dr. Dhepe Nitin
City
:
SolapurMaharashtra, India
Contact No. 1
:
0217-2313939